Having been in the finance industry for 37 years, I've seen a lot of ups and downs in the market over time. In the past 20 years, we've experienced the Dot-com Bubble Burst, the 9/11 tragedy, the financial collapse of 2008, and now, in 2020 COVID-19. However, the effects of the Coronavirus (COVID-19), are different and probably more impactful over the short-term compared to any of the aforementioned crises.
Fortunately, technology has been a cornerstone at ReProp and my colleagues and competitors would agree. It has helped us predict coming trouble in the past and avoid it. I cannot say we saw a pandemic coming but our office emergency plan unfortunately has finally been tested and is performing exactly as we hoped – fully operational remotely. I embrace change which has been a key to our success throughout our 37 years of existence. When I am asked how we continue to thrive I answer, embrace change and always do as promised.
So, what did we do to be proactive to a pandemic and what intervention did we take on behalf of the ReProp Family? It started when my wife started showing me worldwide hotspot mappings beginning late January. I requested that our team look at all borrowers who could be most affected, should the virus spread. This was after the US closed travel to China but before the World Health Organization declared a pandemic. On Friday, March 27, the President signed the CARES Act. Over the weekend we read the Act and prepared a memo to our borrowers, informing them of various programs available to them which you can find opens in a new windowHERE.
By Tuesday, we released an email to our investors informing them of what we are doing for our borrowers and offering similar assistance to them if they needed it. That night the SBA released the application for their PPP program so we sent the application to ReProp's friends and family on Wednesday morning with a warning that the funds would not last two weeks. We then followed up with phone calls to assist them with the process and I can say our team helped get everyone the assistance they needed before the first round of funds ran out.
An unfortunate byproduct of the pandemic is that many of my colleagues who were funded by Wall Street or have an investor base that has not been through a previous crisis, are out of business, at least temporarily. This means we are fielding a lot more borrower calls. We are fine because we have loyal long-term investors that have been through other challenging times with us and loyal bank credit. I have never seen a greater need for our services. But as always, we remain focused on lending situations where we can help borrowers with a plenty of equity protection.
Also unfortunately, we've seen a number of our competitors taking advantage of the market by raising prices on new offerings to potential borrowers. Even though there are justifiable reasons for raising loan prices during this time of uncertainty, we've taken a stance to continue to provide our services at our advertised original pricing. Fortunately, we are organized to look at every transaction a little bit closer and pick those that meet our normal criteria. Our referral sources can, therefore, continue to reliably refer their transactions to us as they have over the last 37 years, knowing that we are not taking advantage of them or their clients as a result of the current economic conditions.
We continue to value equity in our transactions. So, for example, considering a borrower's property is worth a million dollars, we may loan that borrower a half a million dollars. Therefore, if the market fluctuates a bit, our borrower is protected and so are we and our investors. If there is a short-term blip in the market, our borrowers are not going to lose their property through foreclosure nor our investors their investment. We are all able to ride out the storm. That's how we mitigate the risk in our world, and we won't raise pricing during this time.
During this crisis, my hope is that other small businesses will adapt our approach and care for their people first, then their customers, and their strategic partners and vendors as well. Using this strategy, we can all figure out a way to come out of this crisis stronger.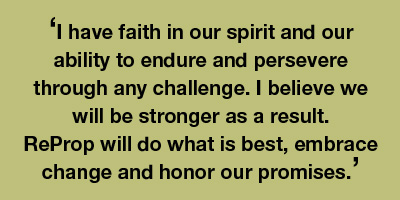 We've never faced anything like this, and while it's a tragedy, I believe that as we emerge from this, there'll be a blessing within it. I have faith in our spirit and our ability to endure and persevere through any challenge. I believe we will be stronger as a result. ReProp will do what is best, embrace change, and honor our promises.