The Small Business Administration (SBA) offers financial resources for entrepreneurs and business owners in the United States. One of the most important loan programs offered by the SBA is the CDC/504 loan program, which is designed to provide necessary funding for smaller businesses. This program can allow you to purchase equipment, land or to modernize your business premises. Understanding these loans can help you make the most appropriate choices for your business and your financial situation.
What Is an SBA 504 Loan?
CDC/504 loans are issued by Certified Development Companies that work with the SBA to make these loans available. These lending companies are certified and receive oversight from the SBA. CDCs offer long-term loans of up to $5 million at fixed rates, which can provide much-needed financial stability for your business.
Your CDC/504 loan can be used to purchase fixed assets, which typically include the purchase of real estate, large-scale machinery and equipment, buildings and facilities. The proceeds from these loans can also be used to improve or modernize your existing facilities and the streets and property surrounding them.
What Are the Eligibility Requirements?
To qualify for an SBA 504 loan, your company must meet some basic requirements:
You must own and operate your own business.

You must occupy at least half of your business premises.

Your net business income must not exceed $2.5 million after taxes for two years before you apply.

The tangible net worth of your business must be less than $7.5 million.

You must be operating a for-profit business located in the United States or in its possessions.

Your business must meet size guidelines issued by the SBA.

You must have demonstrated management skills and be of good character.

You must show that you can repay the loan.
If you meet these criteria, you can usually apply for an SBA 504 loan with a reasonable chance of approval.
How Long Does It Take to Get the Loan?
In general, SBA 504 loans take between 60 to 90 days for approval. Working with an alternative lender for the first lien loan can sometimes shorten this time period to a significant degree.
Structure of SBA 504 Loans
A 504 loan can be structured in several different ways to suit the needs of your business and the size of your loan. Maturity terms include 10-year, 20-year and 25-year loans with interest rates that are tied to U.S. Treasury note rates. SBA 504 loans require an initial lender who will provide up to 50 percent of the funding. When this first lien loan is in place, the SBA will provide the remainder of the funding through a CDC, which will establish a second or junior lien for up to 40 percent of the total cost of the project.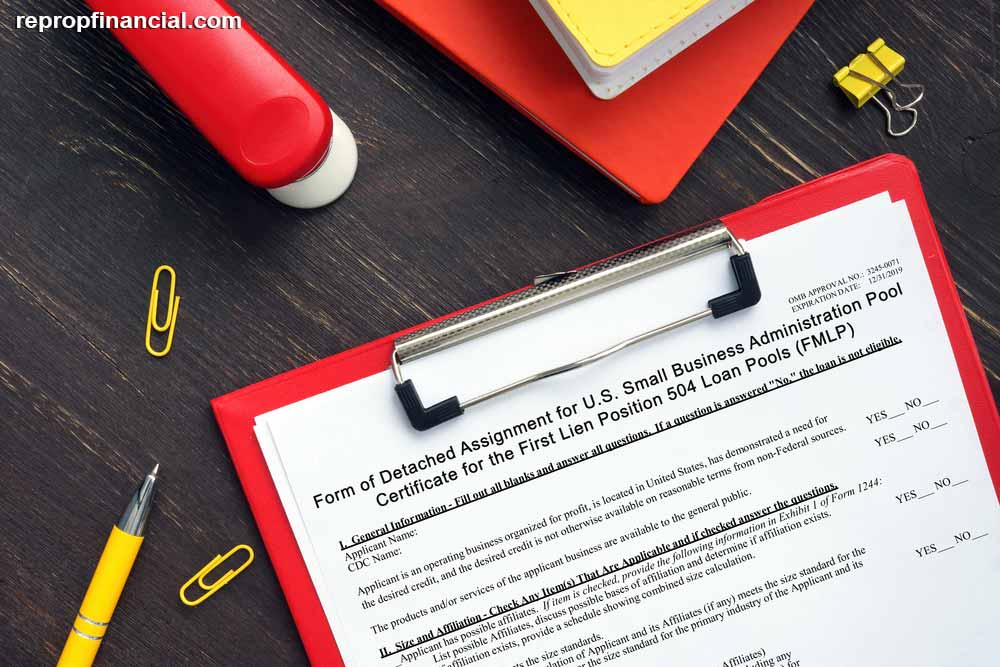 How to Apply
ReProp Financial is a first lien alternative lender for SBA CDC/504 loan applications. We make it easy to apply and qualify for these funding options. Our team will work with you to provide guidance and support for your loan application.
Call us today at 1-800-444-2948 or visit us online to submit your loan request. We look forward to the opportunity to work with you.